Researching Domains
As you look at the results of your search I am sure that some will look more interesting than others. For domains that catch your eye, you have a number of further ways to look more closely at the suitability of the domain before registering it.
We will now look at each of the data reports available to you, in order to decide whether a domain is of potential value to you.
---
Domain Metadata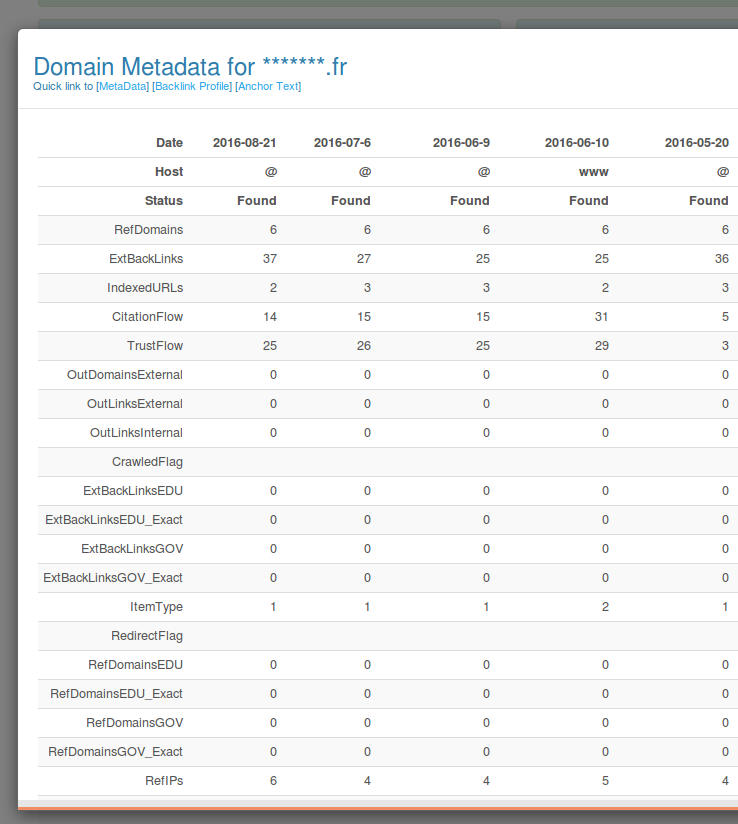 Domain Metadata is acquired from Majestic and gives a great overview of a domain. Indeed, we use some of the datapoints as search filters to find domains. We will show the complete history of data for the root domain (e.g. example.com) and the www subdomain (e.g. www.example.com)
The data is a good general barometer, but not a great indicator of a good domain, but certainly indicates the potential of goodness.
It is worth noting any volatility or large increases in metrics. Generally a good domain will not have a sudden increase in backlinks, volatile trust flow and will have a number of backlinks from distinct RefDomains (unique referring domains) and RefSubNets (unique domains that belong on distinct IP address subnets). Sometimes an attractive looking metric may drop if the Majestic bot missed out one or more of a domain's quality backlinks on its latest crawl snapshot. Bear in mind that the link may still exist.
Occasionally you may find domains with .GOV backlinks (governmental websites) or .EDU backlinks (educational backlinks) which have often been considered a good quality signal as often they are links from reputable and well-established pages.
Overall I would say that domain metadata is generally more useful to the trained eye, though the above basic steps give you an idea of what to look out for.
---
Domain Anchors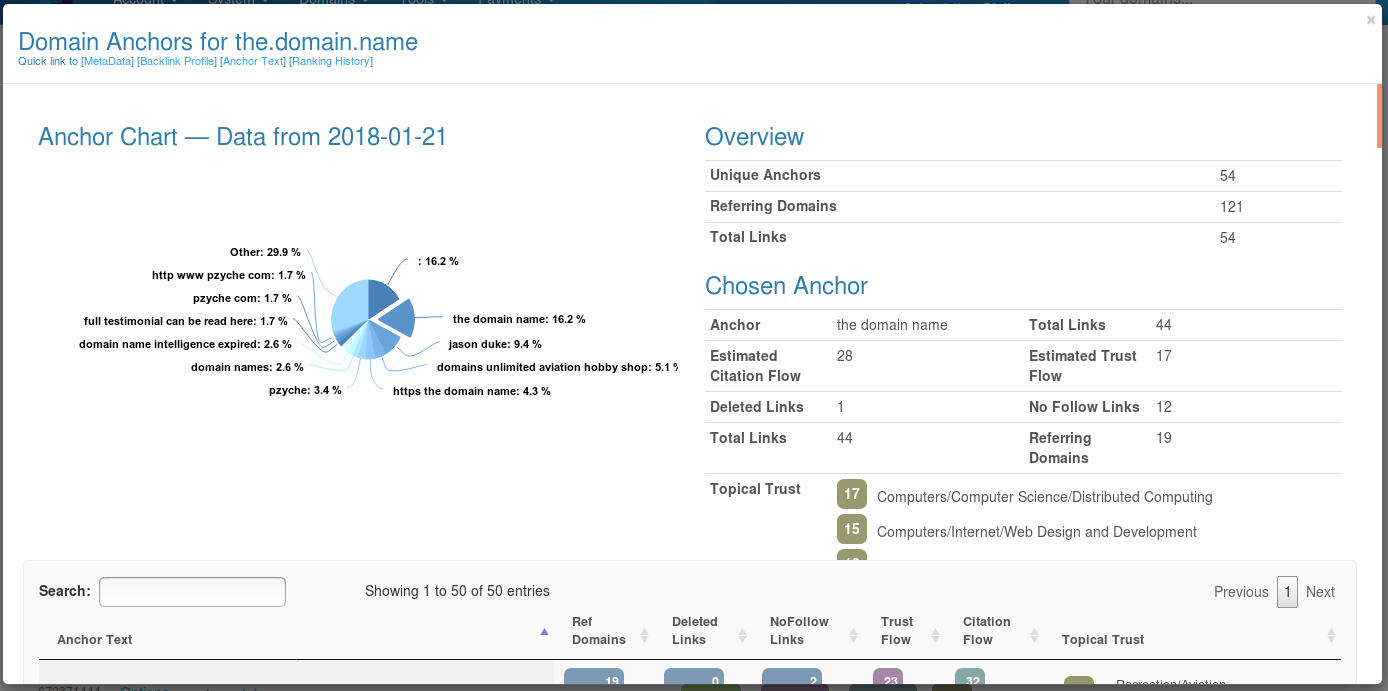 The Domain Anchors report groups the domain's backlinks by unique strings of text, giving you an idea of the contextuality of the domain.
Typically we retain older reports of this type, as the backlink profile providers equal to or greater insight about the domain.
However, you will get a great overview of the context of the domain, and see what the most popular anchor texts are, the proportion of each anchor text used and whether there are any spammy anchor strings that are prominent.
Often I will come across domains that have one or two suspicious looking links, I tend to ignore these if they are around the periphery of the profile, and will ignore the domain if the majority of its backlink juice comes from off-topic of spammy looking links.
---
Domain Backlinks
Overview of unique links, unique domains, unique root domains, unique subnets and ASNs. Instantly know how well spread out the backlinks are for a domain, and the likelihood they are natural backlinks.
A word cloud of anchor text, get an overview of the contextual relevancy of the domains backlinks
Chart Selection

Age of domains based on WHOIS records, grouped by year
TLDs grouped by count
IP geolocation grouped by country
IP ASN grouped by ASN number (who owns the IP space, typically a hosting company)
IPs grouped by IP subnet
Trust Flow counts
Alexa Rank counts

Discover individual links that point to the domain

The backlink, its anchor text, the link type and its destination URL
Citation, Trust and Topical Trust Flow of the backlink page
Citation, Trust and Topical Trust Flow of the target page

Find out more about the domain that's linking

The IP subnet and ASN
The age of the domain
Citation, Trust and Topical Trust Flow and Indexed URL count of the domain and the root domain
Always grab a fresh copy of backlink data. We keep our data relatively fresh, but don't grab backlink profiles up-to-the-minute-fresh on the off chance you choose to look at it. As a subscriber you can grab hundreds of backlink profiles free of charge in our system. If the backlink profile is more than 60 days old, I'll look at the older profile first, and if it looks OK, then grab a fresh backlink profile.
Glance at the anchor text cloud and topical trust flow to gauge whether it is contextually relevant
Browse through the charts and evaluate whether there is a natural backlink profile. You will get a feel for artificial backlinks when the domains are clustered into small IP ranges, the domain registration dates are clustered together, generally if there is a lack of natural diversity that you would find on a non-SEO'd domain
Filter the individual backlinks to show only the top trust flow link from each unique domain. If all other criteria are met and there are two or more links with trust flow... I think the domain is of value. Links disappear all the time across the web, so having link power from a diverse set of links helps retain potential domain power in the expired domain.
You may see some spammy links, personally I will ignore them unless they're the ones delivering the majority of Trust Flow. When that's the case I would continue my search for other domains...
Personally, I prefer looking at Class C count (or RefSubNets) than referring domains.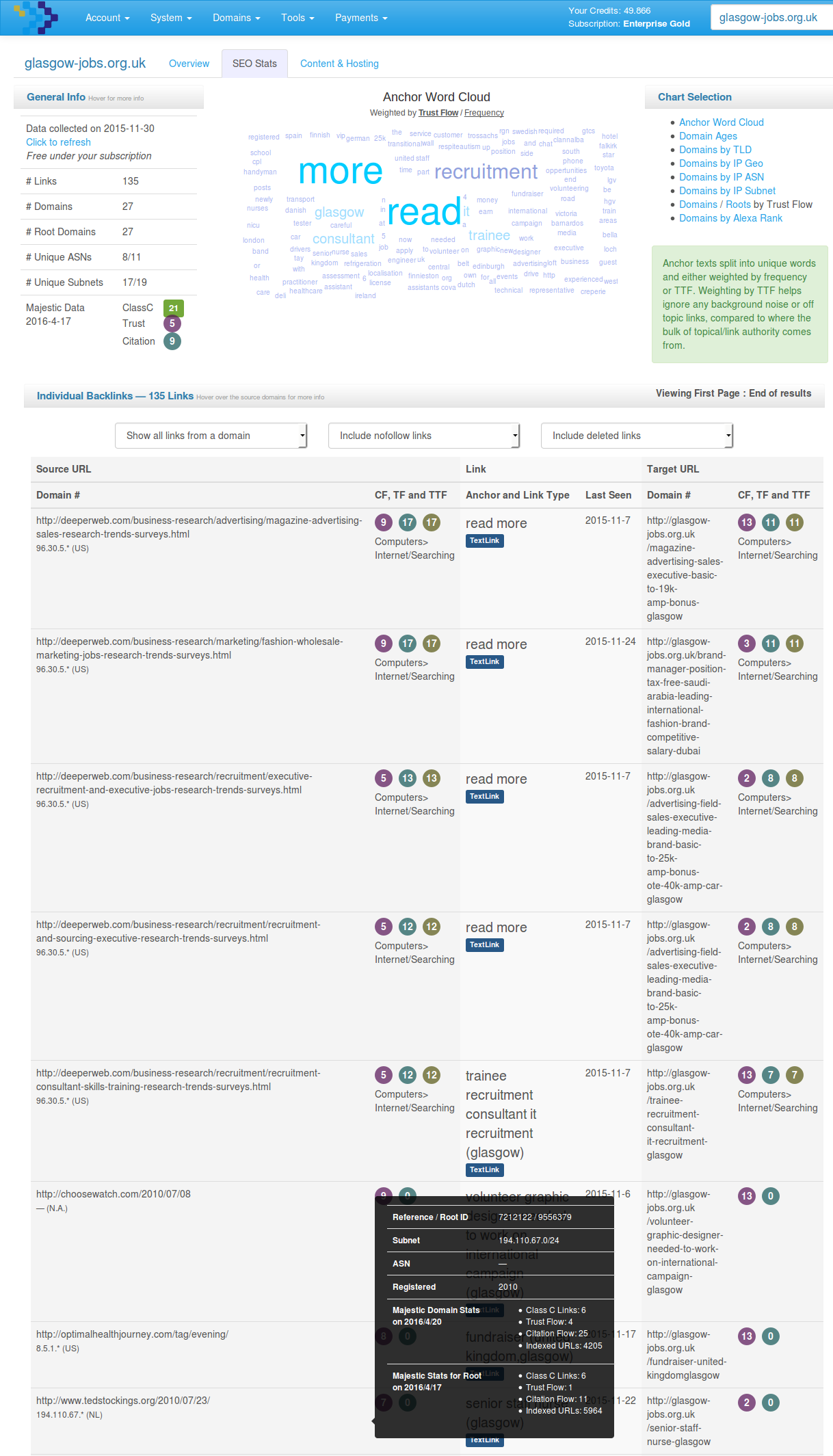 ---
Domain Rankings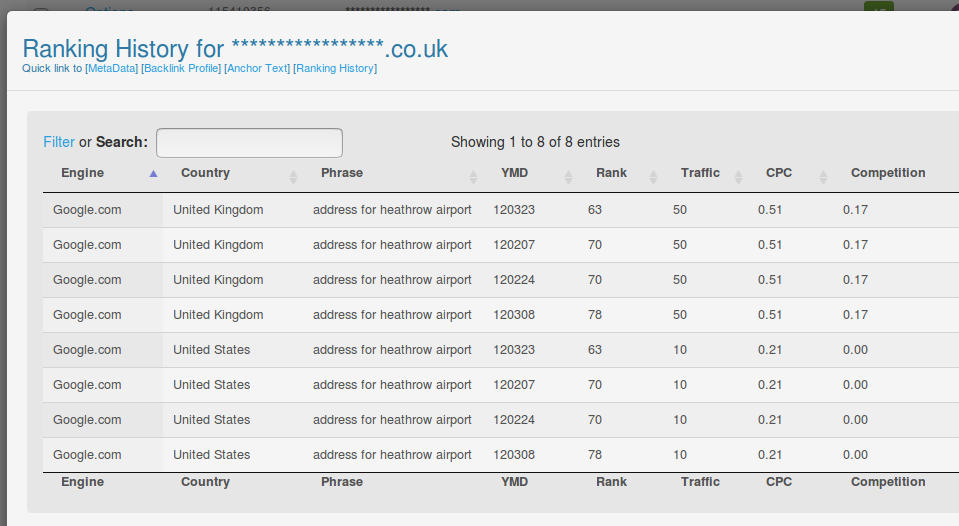 We have over 20 billion historical ranking results, mostly from Google and a smidgeon from Bing. The dataset is by no means comprehensive (consider the number of potential search terms and how often they could be checked), but if we have the data then we share it with you
Historical rankings can be a nice indicator that historical content for the domain was once seen favourably by search engines for particular search terms, and that the domain was seen favourably in order for it to rank for a search term.
---
Domain DNS History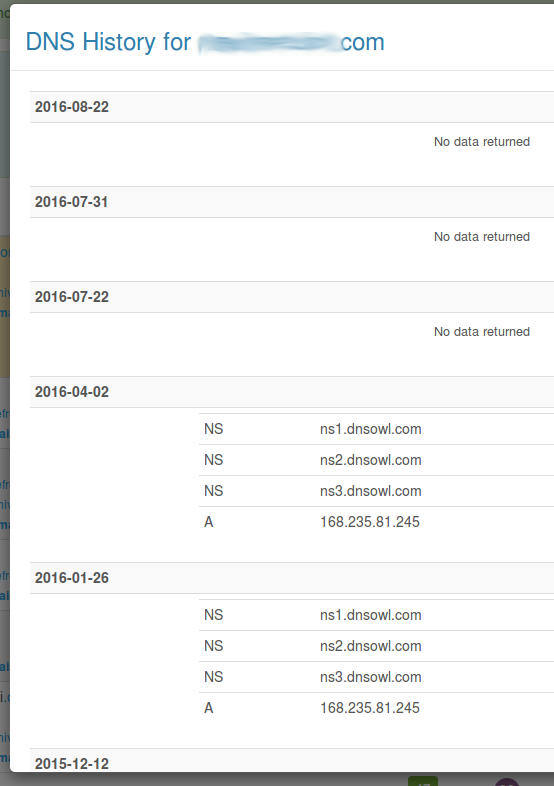 For domains that are pre-revealed, you can view the DNS history of a domain. This can give you a good indication of when the domain expired, where it was originally hosted, and possibly fingerprints leading to who the original owner was (and other domains of theirs)
If curiousity gets the best of you, our domain intelligence tool can help you find domains that belonged on the same IP, or perhaps belonged to the same owner.
---
Domain WHOIS History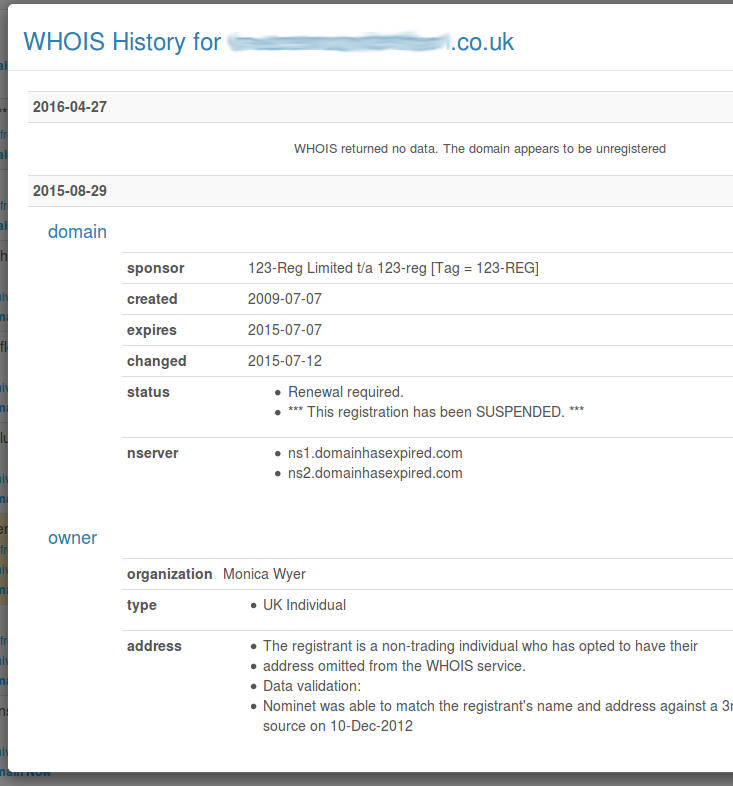 For domains that are pre-revealed, you can view the WHOIS history of a domain. The amount of datapoints we have for each domain typically depends on the TLD and its WHOIS server
You can get a good indication of when the domain expired, and who previously owned it. If the domain was registered using a domain privacy service, that may indicate a lower quality, or a domain that was previously used in a PBN type setup.
If curiousity gets the best of you, our domain intelligence tool can help you find domains that belonged to the same owner.
Our next training page covers aspects of domain revealing...